Desert X Gurls
Last weekend we traveled with four women on an art pilgrimage to Coachella Valley where we navigated our way through site-specific installations. The installations we visited are part of Desert X. Desert X is a site-specific, contemporary art exhibition that is held in the Coachella Valley in Southern California. A treasure hunt for art, if you will. And when we found our arts' oasis, we snapped pictures of course. Instagram-able photos aside, this is about much more than that. These installations are about how art behaves outside of institutional walls. We selected five installations: SPECTER, Lover's Rainbow, DIVE-IN, Going Nowhere Pavilion #01 and Ghost Palm. Below are the installations and the women we traveled with.
I normally write about the art and design exhibits I attend on my blog, Design Geek In Heels. But this post is a bit different. Because this post is about a female-only creative retreat. I wanted to introduce you to my bad-ass friends and the amazing Desert X trip in collaboration with Gurl Museum Day.
WHO ARE YOUR BAD-ASS FRIENDS?
Diane Lindquist
Diane Lindquist is an award-winning Mexican-American multidisciplinary designer, creative director, entrepreneur, and survivor—of life and cancer. Diane is a prolific designer and a passionate community builder. Her love of art is infused into all aspects of her life, inspiring anyone she comes in contact with. She is the founder of Gurl Museum Day and works as an independent designer. Check out her design work here.
She is a deep red, whose aura radiates out the orange to rays of yellow. She transmutes darkness into light, which inspires and uplifts everyone it touches. She holds the world in the safety and love of her multidimensional heart.
Brittney Backos
Brittney is a true California gurl from Simi Valley. As a friend, she is calm, kind and focused. Her dedication as a designer and art director career is instilled from years of gymnastics training. Brittany is an audacious and dynamic creative who charts her own paths while actively encouraging those around her to do the same. You can check out her design work here.
She is a mix if greens and blues, head and heart, water and earth. Steadfast and ready. Rooted but flexible. With her feet planted where she stands, she allows her foresight, creativity, and vision to expand from her aura into brilliant bursts of gold.
Amy Nadeen Avila
Amy is from the big city with small-town vibes of Fresno, CA. As a friend, she is loving, bold, and curious. Qualities that she brings into practice as a painter and illustrator. You can check out Amy's art here.
She is a traveler of time and space. She uses her ability to exist simultaneously on multiple timelines to inform and synthesize her experience here on earth. She uses her mind to create timeless recollections of our collective existence through art and conversation.
Rachel fishman
Rachel is a magically intuitive soul from the Mid-West. As a friend, she is warm, supportive and caring. As a brand intuitive creative, she helps entrepreneurs and companies find and reconnect with their purpose. You can view her work here.
She is a fiercely authentic creative who brings a sense of style and magic to any room she walks into. Bold and persistent, Rachel is a glittery force of nature.
Her sequence of colors is always aligned bringing her closer to the people she interacts with. She is the brand of her own voice, bringing vision and clarity to make work with integrity and expressing herself unapologetically.
Marina Murad
Marina is an Iraqi refugee from Redlands, CA. As a friend, she is strong, assertive and willful. All attributing to her passion as a designer and creative director. Vibrant and charismatic, Marina challenges industry stereotypes and culture by shifting the status quo of what it means to be a female designer in the tech and entertainment industry. You can check out Marina's work here.
She is a shooting star, a firework. A blaze of fire in the cosmic sky. She honors where she comes from but she breaks barriers and blazes new trails because she also values where she is going. When she allows her inner light to shine, she is unstoppable.
What is Desert X?
Desert X is a series of sight-specific contemporary art exhibition that uses the desert as its canvas. It is held in the Coachella Valley in Southern California. Desert X 2019 goes on from February 9 to April 21. Scroll down to see all the art we explored.
A jarring red cube that hides in plain sight. Upon the first impression, one would think there is a construction zone going on, suggesting some sort of danger or warning. Fighting our way through the sandy winds of the desert, we approached the monolith cube. On the right side, a wedding ceremony takes place between an interracial couple. The backdrop of the desert frames this nomadic beauty…taking the sculpture context outside a gallery space.
Lover's Rainbow by Pia Camil
Rain and fertility: the symbol of a rainbow. This sculpture made out of exposed rebar portrays development. The act of bending the rebar into the ground is a way to re-insert hope into the land. The mirror rainbows are also meant to throw light into the current immigration policies, prompting viewers to see things from two perspectives. This sculpture lives in two places: the Coachella Valley and in the Mexico border of Baja, Mexico.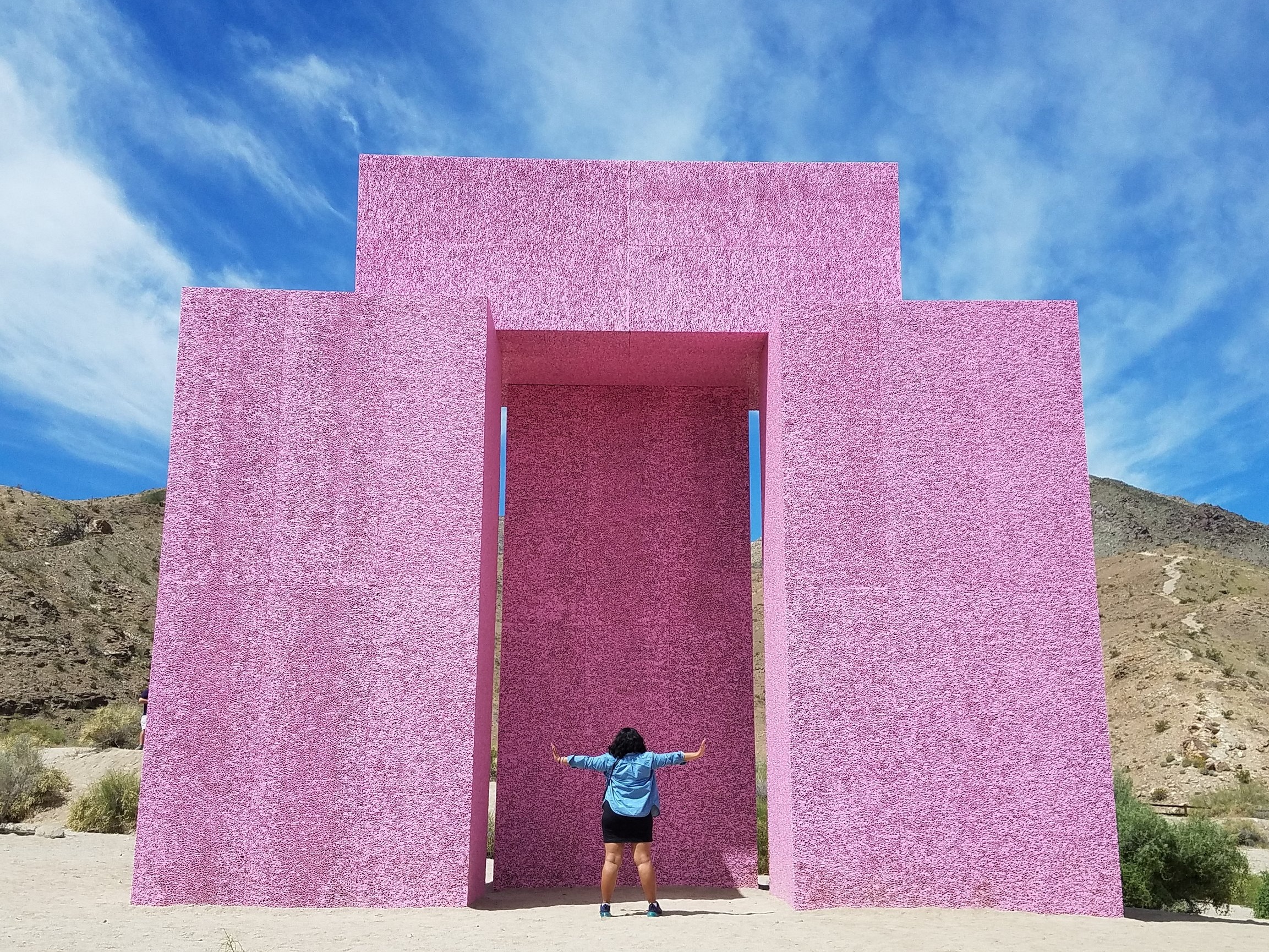 Inspired by the misspelling of the word Coachella, the Danish group that goes by the name SUPERFLEX sought out to create this "fish-friendly" architecture. Spanish settlers originally named this valley Conchilla, which means "little shell." Because of a mis-spelling the region became known as the Coachella Valley, thereby stripping it of the reminder that 6 million years ago, what is now desert had been underwater and connected to the so-called Western Interior Seaway. Using humor, SUPERFLEX created a social commentary on what the desert would be like, many years from now if it was once again submerged with the sea levels rising.
Going Nowhere Pavilion #01
by Julian Hoeber
Famed psychoanalyst Jacques Lacan's own attempts to use topology – the study of geometric properties – as a vehicle to describe the human mind is a subject artist Julian Hoeber has explored for years. As with the Möbius strip form, what is inside and outside the self can quickly become impossible to see.
Ghost Palm by Kathleen Ryan
Nestled in a plot of the low desert, between the foreboding San Andreas Fault path and a line of tamarisk trees, Ghost Palm is a manifestation of the artist's fascination with the tenuous balance between fragility and sheer power.
Tips for Desert X
Bring a hat, sunblock, and some water: it gets hot so stay hydrated. But also bring a jacket because the desert can get cold very easily.

It's intense to try to see everything at once. So we divided out excursion into two days.

Download the Desert X app because as you are driving it lets you know where the next art location is.

If you take photos on a traditional camera (to try to be artsy and impress your designer friends) be sure the film role isn't expired.
Desert X 2019 goes on from February 9 to April 21. More info here: https://www.desertx.org/
A special thank you to Brittney for hosting us in Palm Desert